What is FASTNA®?
FASTNA® is the main brand of hook and loop that we supply, it's high quality and great value; comparable to the market leader without the extra expense. Our most popular stick on and sew on tape is available in 25m reels, plus handy 1m lengths. We also supply branded retail boxes.
What is Hook and Loop?
Hook and loop is a fastener closure system made up of two components; a 'hook' side and a 'loop' side. The rougher hook side is made up of lots of tiny hooks. The loop side is softer with clusters of thin loops. When pressed together the hooks catch on to the loops which bind the two components together. This is a temporary fastening which can be pulled or peeled apart.
What is the difference between 'VELCRO®' and 'hook and loop'?
Many use VELCRO® incorrectly to identify all hook and loop fasteners. In reality, it's just a brand name of a company who manufacturer and sell hook and loop products. Much like Hoover® is for vacuum cleaners, Biro® is for ballpoint pens and Blu-Tack® is for putty-like adhesive.
Which is the hook / loop side?
The hook side is the rough side; the loop side is the softer side.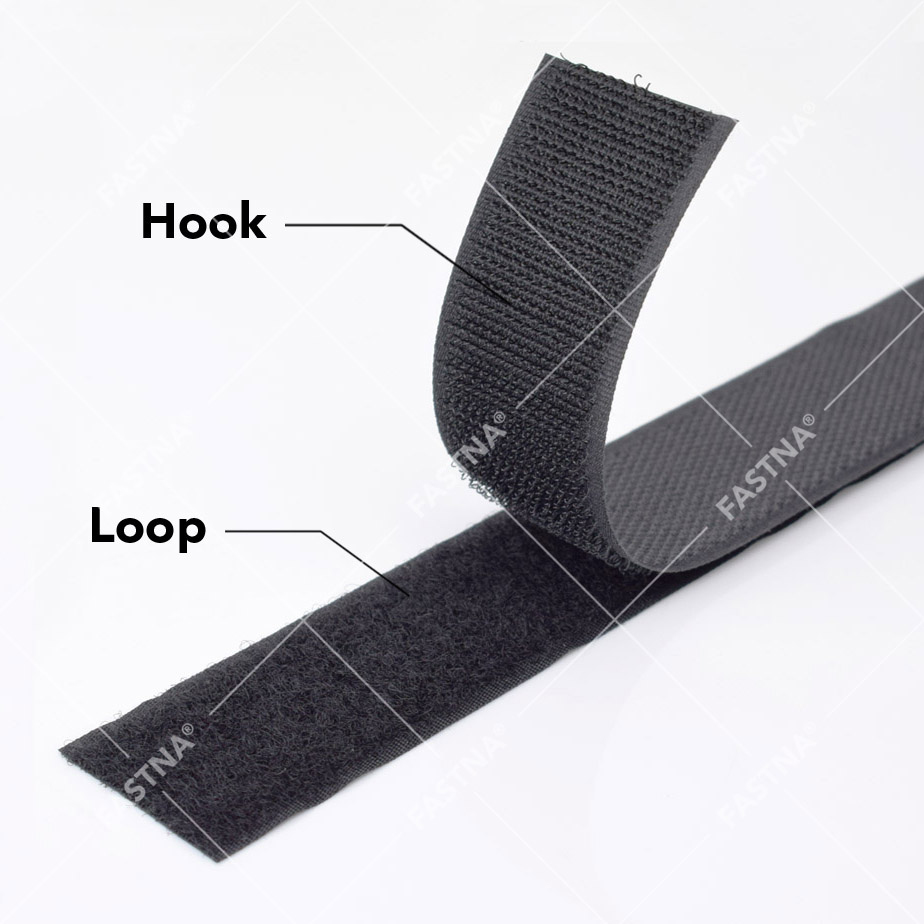 ×
Can I just buy one side?
Yes. Most of our hook and loop products are available to purchase as either the hook side only or the loop side only, this is useful when, for example, making blinds - people buy the adhesive hook side but sew on loop side. We also offer the ability to purchase both sides in one go for some products; just select this option from the dropdown list on the product page. Please note that our retail packs will often contain both sides.
Can the Sew On tape be sewn with a sewing machine?
Yes. All of our Sew On hook and loop tape is compatible for use with a sewing machine. Please note that our adhesive hook and loop can be sewn onto garments, however it can be difficult as the adhesive is thick making it more difficult to penetrate with a needle.
How strong is the adhesive glue on the Stick On hook and loop tape?
The standard rubber adhesive is high tack and suitable for use indoors, its strength entirely depends on what the hook and loop is being attached to, how much is being used and the weight being put on it. We can't guarantee that the hook and loop will be suitable for your specific needs; however we do offer shorter 1m lengths of all of our FASTNA® brand hook and loop reels so you can purchase a small amount and test it before purchasing the larger reels. When applying adhesive tape it's extremely important that you make sure the surface is dry, clean and free of dust before sticking the tape to it.
Do you have a single tape which is hook on one side and loop on the back?
Yes, we call this Back to Back Strapping which is available in various widths and lengths. We also have Cable Ties which use the same method and come in handy strips that can be threaded through themselves and used over and over again; a great alternative to plastic cable ties.